This is vol. 2 of our attempt to eat ourselves around the country during S's vacation. There are two larger islands in Estonia, Saaremaa, where we went to last year and which was fully booked this time anyway, because of an opera festival, and then Hiiumaa. So this is where we went, via the beautiful manor of Vihula near Rakvere and the pretty, pretty beaches and blueberry forests of Noa-Rootsi.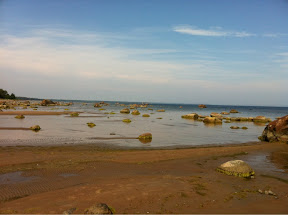 The cakes of Muurivahe cafe and Kuursaal in Haapsalu.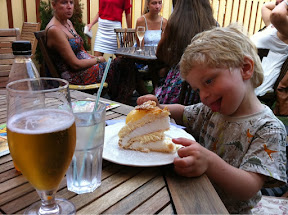 Being an island that consist in a large part of juniper bushes and stony seasides fish and lamb are obvious culinary staples.
Plaice (flatfish) is super popular, even though all mainlanders are appallingly clumsy at eating it. We had panfried plaice in Pihla talu, it came with a cold, sour-cream based sauce and boiled new potatoes. The fish was small but oh so delicious. We ended up ordering a plateful of fish with no sides in the evening to go with our beers.
Smoked plaice and smoked garfish (my favorite) were also enjoyed.
There is a very aptly named restaurant called Lest ja Lammas in Kassari (a peninsula on Hiiumaa with lovely nature, a cool straw roofed church and a beach), where we went for a well earned lunch after almost perishing in the scary juniper jungle of Saaretirp
(a thin strand of land that goes about 2 km into the sea).
Mini-me got a lamb soup he refused to eat. And a cheesecake that was less cheese and more whipped cream with gelatin, but he devoured it before I had a chance to take a picture.
I had boiled new potatoes with lightly salted whitefish. It was delicious in terms of taste, but badly filleted.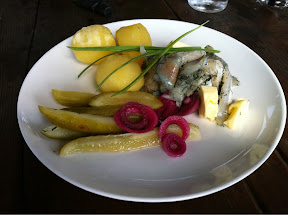 S had pork neck and loved it. He and his mom also had smoked Baltic herring for starters.
All in all it seemed like a place that'd mostly cater to foreign tourists, it felt a little 'chainish' to me. In a nice straw roofed way.
- Posted using BlogPress from my iPhone