Parnu is probably the most famous and loved resort-towns in Estonia. I usually avoid it like the plague, the last time I was here (for a hen night)
it seemed like the over tanned, screaming, neon colored and stupor-drunk equivalent of Jersey Shore. Despite all this we decided to come and celebrate our wedding anniversary here, give Parnu another chance. Last year we went to Paris. At least the both start with a P right? *laughs*
And - cue drumroll - it really wasn't that bad. The beach was not scary - elderly Finns rather than the Jersey Shore generation of locals. The water was nice, there is a cool exhibition on at the New Art Museum and we had good food! Not once either, but twice, or actually three times!
There are two relatively new eateries open in Parnu - Supelsaksad and Mahedik, this one's focussed on using organic and local produce in their dishes. The service was really good in both of them, very friendly, charming, helpful girls.
It took a LONG time to get our food in Supelsaksad, but luckily we weren't that hungry and it's a nice place to hang out in. I had a really good onion soup with toasted cheese.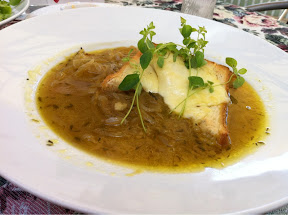 S had a mozzarella and tomato salad with oven baked salmon. Nom.
In Mahedik they were kind of out of half of the things on the menu, but I guess that was to be expected as we arrived about 20 minutes before their official closing time, yet they still served us without complaint. I had the daily special - pan-fried baby lamb's liver with potato and leek mash.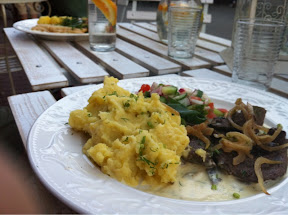 The mash was good, the sauce was splendid, but the liver had spent too much time on the pan. S had freshly caught pike-fish and it was very good.
My dark chocolate and mint cake was absolutely inspired.
And just before leaving we went for pizza in Steffani's, it used to be the only place where anyone not from Parnu ever went to eat while there. Gladly it's still quite good as far as pizzas go, I didn't particularly like my mozzarella salad, I find it sinful to serve dried oregano and basil dead in the middle of the summer and there was too much of emphasis on Balsamico and not enough on olive oil.